translation missing: en.products.product.price.regular_price
$150.00
translation missing: en.products.product.price.sale_price
$150.00
translation missing: en.products.product.price.regular_price
$260.00
22 people are viewing this right now
Free Shipping & Returns: On all orders over $50


BE PREPARED FOR ANYTHING! WITH THE ULTIMATE SURVIVAL KIT YOU WHILLE HAVE ALL THE TOOL NECESSARY FOR ANY SITUATION!
As avid campers ourselves, we know just how hard it can be to find a balance between being prepared and being overpacked. This led us to create this one ultimate survival tool that is compact, lightweight and combines all the necessary tools and functions, ensuring you're ready for anything.
Improved & Built To Last:
Hardened carbon steel, reinforced shovel head and military grade aluminum handle guarantee maximum strength and lifetime durability.
Compact:
Folding and lightweight design make the shovel convenient to carry and store. You can easily put it in your bug-out bag or keep it as a set in a suitable case.
Versatile:
Combines over 30 functions. Take it camping, use it in the garden or keep it in the car for emergency situations. Our multifunctional shovel tool kit is perfect for any outdoor activity.
WHAT CAN I DO WITH THE ULTIMATE SURVIVAL TOOL KIT?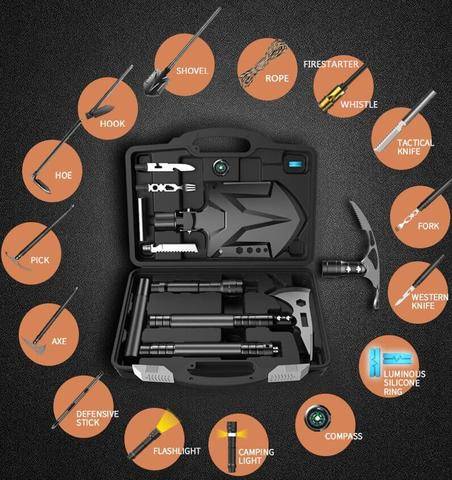 Here's a list of the uses the survival tool kit comes with and that'll help you survive in the wilderness:

Shoveling
Digging
Bracing
Cutting (logs, rope)
Prying
Hammering
Chipping
Fire starting
Loud emergency whistling
Chopping
Wire clamping
Axing
Hoeing (gardening)
Hooking
Peeling
Chiseling
Sawing
Shearing
Entrenching
Bottle/can opening
And more...
2Tac Survival Tool Kit
translation missing: en.products.product.price.regular_price
$150.00
translation missing: en.products.product.price.sale_price
$150.00
translation missing: en.products.product.price.regular_price
$260.00