translation missing: en.products.product.price.regular_price
$89.99
translation missing: en.products.product.price.sale_price
$89.99
translation missing: en.products.product.price.regular_price
$159.99
Ready for anything
Android or iOS
Built To Last
21 people are viewing this right now
"I was very skeptical of buying a smartwatch online until I took a leap a faith and got myself a 2Tactic Watch! It really hight performing smartwatch. I've taken it camping hunting, to my construction job, and its still going strong" ⭐️⭐️⭐️⭐️⭐️
– Kubra. USA
UNLEASH A NEW LEVEL OF POWER WITH A DURABLE SMARTWATCH THAT WON'T QUIT
It's time to face the truth: many smartwatches need to be stronger to support your training and reflect your mindset.
Tired of wasting money on devices that can't withstand a simple drop? Look no further than the 2Tactic Watch, the ultimate rugged smartwatch designed to help you reach your fitness goals and endure any challenge. Say goodbye to flimsy devices and hello to a smartwatch that truly represents your strength and determination.
SAY GOODBYE TO FRAGILE WATCHES THAT BREAK EASILY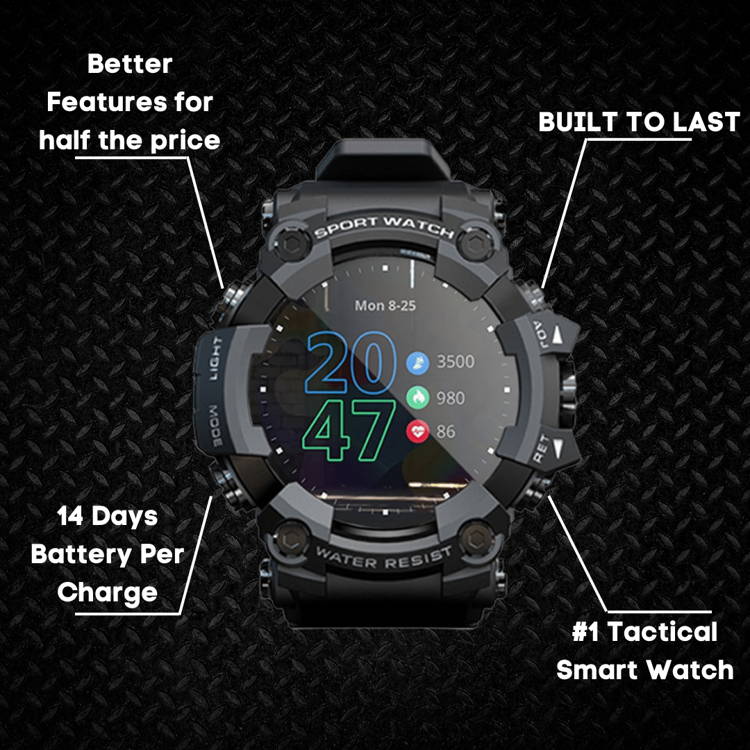 The 2Tactic Watch smartwatch is built on the foundation of hard work. We've utilized the toughest materials in the industry to engineer a device that provides unparalleled confidence for those who demand connectivity during challenging activities such as construction, carpentry, machine operations, welding, and beyond. With the 2Tactic Watch, you can trust that your smartwatch can handle whatever you throw at it and keep you connected when you need it the most.
ELEVATE YOUR WATCH EXPERIENCE WITH THE NEWEST TECHNOLOGY
Not only do we offer the same unparalleled durability that sets us apart, but we've also made the Drystrike Watch smarter.
With a built-in hi-fi speaker and microphone, you can make and receive calls directly from your watch, as well as enjoy your favorite songs with remarkable sound quality. The 2Tactic Watch is the perfect combination of toughness and intelligence, providing everything you need in one convenient device.
Yes! Whether it's an Android or iOS system, you can pair your phone and interact receiving calls, SMS, and app notifications!
It's made from Silica Gel, Acrylonitrile Butadiene Styrene, Stainless Steel, and Mineral Glass.
The 2Tactic Watch has an IP68 certification, it's been tested underwater, in the snow (even freezing the watch), and in other harsh environments.While it is certified water-resistant, pressing buttons underwater is not recommended.

 It's also shock-resistant.Has been tested hitting against walls and different surfaces; even dropping it from a third floor. All test has been successful!

Moreover, it is commonly used and acclaimed by military and police members during their duties.
Yes! The strap is suitable and adjustable to any wrist (10.5 INCHES STRAP). It's used for men and women.
100% You will be able to interact on calls and receive notifications from your social media apps, messages, and more!
It can last up to 21 days each charging cycle, depending on how you use it. On average, a full charge lasts 18 days. It can be charged to 100% in 30 minutes; however, to ensure that it is fully charged, we recommend charging it for one hour.
Once shipped, your order will arrive within 7 to 10 days for United States, within 10 to 16 days for Canada, Australia and United Kingdom, other countries can take 15 to 25 days.

You'll receive an email confirmation once your order has been shipped. Feel free to email us to check your order status. We're happy to help.