translation missing: en.products.product.price.regular_price
$39.99
translation missing: en.products.product.price.sale_price
$39.99
translation missing: en.products.product.price.regular_price
$59.98
24 people are viewing this right now
Free Shipping & Returns: On all orders over $50

#1 SELLING HANDHELD MICROSCOPE
Ignited Curiosity for Science of over 100,000 kids globally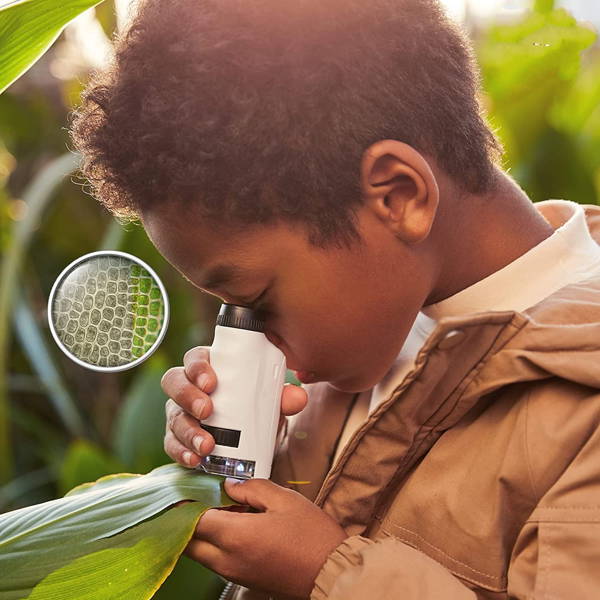 ScienceScope 3.0 has ignited the curiosity for science of over 100,000 kids around the world! Our portable microscope has made learning fun and easy. With online schooling becoming more prominent, it's more important than ever to keep kids moving, involved, and curious for the outside world.
TheScienceScope 3.0 was designed with kids in mind. Our easy-to-read manual will allow your kid to master the portable microscope in no time! It's simple enough to operate that all ages can enjoy exploring effortlessly with The ScienceScope!
Our third generation telescope has durable ABS plastic which means the microscope can handle drops without shattering (perfect for "clumsy" hands). Never worry about another broken toy!

With 60X-120X magnification. The ScienceScope provides clearer and more vibrant colors so your kids can start exploring the microscopic world (without any issues)!

"Keeping kids busy and entertained is a full-time job. The ScienceScope makes things easier while also nurturing your kids curiosity towards science."

The ScienceScope 3.0 gets rave reviews because kids love it just as much as parents and grandparents. Good for a young scientist and your budget, and your kid will love this fun little telescope."

Best educational toy grabs Child's interest away from screens
We are proud to announce that over 150 satisfied customers have told us that our Pocket Microscope has cut their children's television viewing time in half!
What Mother Nature can Teach us by Observing it Closely
Inspire interest in the environment - observe nature closely, and see beautiful patterns
Expand the imagination - everything can be interesting. It all depends on which lens you're looking through
Expands understanding - see the beauty of nature that the naked eye can't see
Increase natural development - by creating curiosity about things
Pocket Microscope is Ideal for Children
Zoom-in option - clear view with adjustable zoom
Made to last - it will not break from minor drops
Easy to use - fits comfortably in a child's hand
Easy to carry - fits neatly in a bag or pocket
Lightweight - made of ABS plastic